In our daily lives as scientists it is very normal to us to only interpret data that has a good signal-to-noise ratio. If the signal-to-noise ratio is bad, we do not get any information from out measurements and discard them.
However, when it comes to formatting data for a presentation or poster we often fail to take a different kind of signal-to-noise ratio into account. We consider everything equally important. We are tempted to highlight everything. There seems to be nothing wrong with that, but here's the thing: Your brain can only handle so much until it decides to shut down. If it gets flushed with impressions it will activate its built-in spam filter and only allows you to process a minor part of what you perceive. If this happens to your audience, you do not have any chance to reach them: The essential information (the signal) gets lost in noise. Hence, you have to be selective in choosing what information to highlight. If everything is highlighted, nothing is.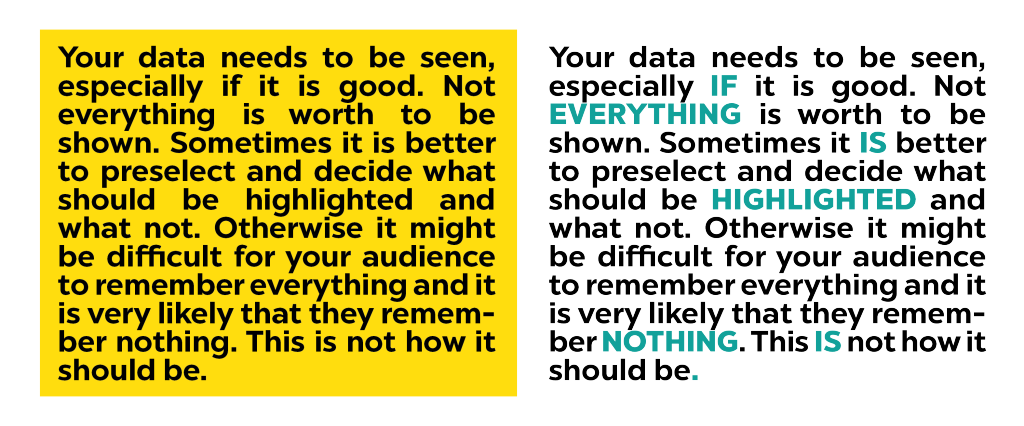 It is very important to use design as a supportive tool to achieve a clearly visible distinction between important and supportive data. This can be done by using two main features.
[title type="" size="h6″ style="" bigletter="" alignment="left"]The size:[/title]Larger items are better visible and are therefore more important. Small items are less important and can be used to support the important parts. Make one large object your eye-catcher. Gather supportive information around your eye-catching object. [title type="" size="h6″ style="" bigletter="" alignment="left"]The color:[/title]Use colors to highlight things. The stronger the color is, the better the visibility. Use shades of the same color to create a hierarchy of importance. Grey is a great option for supportive data. It is compatible with most colors and saves you the pain of finding a second color that goes along well with your main color.
To give you an example, I took a poster that I made back in 2012. I used a large figure in the middle of the poster. The figure is supported by the text that explains the different steps of the reaction. Today I would have designed the poster differently (there is definitely too much text); however, I still think that it illustrates the concept nicely.
Coming up next I will tell you a little bit more about another concept that allows you to direct the attention of the reader to a specific spot: the famous and almighty white space.
Until then, thanks for reading and have fun with designing your next poster 🙂