Choosing a font for your presentation or poster seems to be a trivial task and the choice is often taken lightly. As for many design decisions, your preferences and personal taste have a strong influence on your choice. Nevertheless, you should choose wisely and take some important considerations into account.
[title type="" size="h5″ style="" bigletter="" alignment="left"]Two families[/title]Put simply, there are two large families of fonts: those with serifs (serif fonts) and those without (sans serif fonts). The best-known member of the serif family is for sure Times New Roman. Arial, on the other hand, is maybe the most prominent member form the sans serif family. Just to put everyone on the same page: Fonts with serifs have little extra lines/connections at the edges of the letters (see turquoise parts at the "F"), sans serif fonts don't.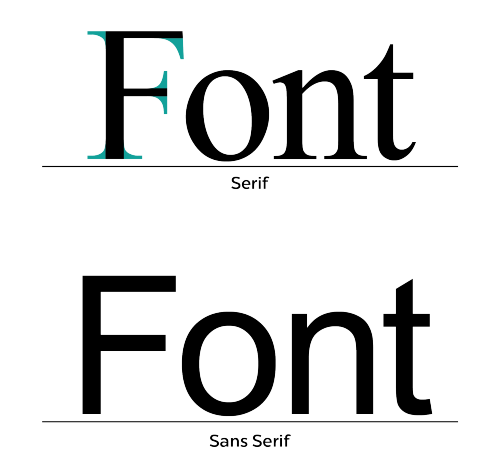 [title type="" size="h5″ style="" bigletter="" alignment="left"]What font to choose for what purpose?[/title]
Presentation: There is actually only one very important question that you have to ask yourself when choosing a font for your presentation: is it readable? Normally sans serif fonts are preferred over serif fonts in presentations for a very simple reason: Sans serif fonts normally have a uniform look, meaning every part of the letter is equally thick or thin while serif fonts often have "curves". These variations can make it difficult to read your text from large distances since the thinner parts of the letters tend to blur out. Especially when the lamp of the beamer is weak or your slides have a bad contrast, reading might become difficult. Therefore, if you want to be on the safe side, go for a sans serif font in presentations.
With blurred letters, we can clearly see that fonts without serifs are still readable while a baroque kind of font becomes undefined. The word "Font" in the picture above might as well be read as "Pont" or "Ponl".
A prominent example is the recent redesign of the Google logo. The major reason for switching to a sans serif font for the new logo was that the readability on small screens (mobil phones, etc.) is enhanced compared to the serif font.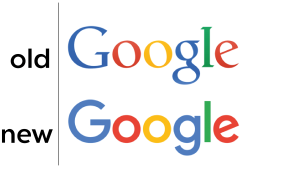 Poster: If you design a poster, you have a higher degree of freedom when it comes to choosing a font. Human eyes normally work perfectly when reading printed text, this is what we are adapted to. While choosing between a font with serifs or without serifs is up to you, you should still consider the following points:
Is my font readable from a distance of 1–2 meters?
Is it too thin, or too thick?
Does it have an italic or bold version?
Does it have symbols (e.g., Greek letters)?
[title type="" size="h5″ style="" bigletter="" alignment="left"]General recommendations[/title]Even though I used Times New Roman and Arial as two examples above, there are many more fonts to choose from. Use fonts as part of your design! Not using the standard fonts (Times New Roman, Arial, Calibri, Cambria, …) can already make a huge difference in the appearance of your work.
Use a maximum of two different fonts. One for headlines, one for the actual text is enough. Rather highlight specific parts of the text using the bold or italic version of the same font than using a third font.
Currently, sans serif fonts are en vogue! Especially the very thin ones. I personally love these type of fonts; however, they are not always suitable for posters or presentation design, because they can be difficult to read.
Here is a list of my current personal favorites. Some of these fonts are around for already quite some time. Futura, for instance, was designed in 1927! It doesn't need to be the latest fashion font to give a modern design.

One last remark: Unless you are planning a birthday party for your kids, there is absolutely no justification for the use of Comic Sans. Or lets put it that way: If you can come up with a decent justification that can convince me to use Comic Sans for a scientific purpose, your next beer is on me 🙂
Happy typing!